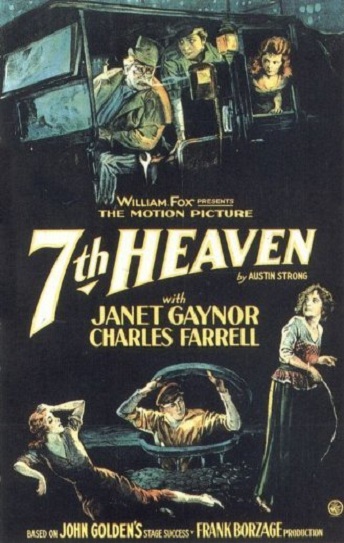 7th Heaven (1927)
Free Download and Watch Online 720p/1080p Bluray Full Movie HD
SEVENTH HEAVEN, released as 7th HEAVEN (Fox, 1927), directed by Frank Borzage, is a tender love story set in pre-World War I Paris that unites two unlikely people to become popular twosome of the silver screen, the pert and angelic Janet Gaynor and the tall but not-so-rugged Charles Farrell for the first of twelve movies they were to appear together.
Chico Robas (Charles Farrell) is a sewer worker in the streets of Paris whose ambition is to be promoted to street-cleaner. Although he is self-confident, he lacks religious faith, believing God has disappointed him to a point of becoming an atheist. Not far away is Diane (Janet Gaynor), a frightful young girl, is being abused by her vengeful sister, Nana (Gladys Brockwell), who pleasures herself by whipping the frightful thing for the slightest cause. When Nana feels she's been cheated out of living the life of luxury with her visiting rich uncle (Brandon Hurst) due to Diane's truthfulness to his questions of not actually being "good girls," Nana grabs her whip and starts beating her as she runs out the door and into the streets. Lying in the gutter and in the process of being strangled, Chico comes to the girl's rescue, frightening Nana away. Shortly after-wards, Diane decides to take her own life with Chico's knife, but is soon stopped by him. When Diane is denounced to the police by Nana, Chico, once more comes to her defense, telling the law-abiding officer the waif is his wife. As the police intend on checking out his story, Chico, who now feels pity for the girl, invites her to staying his apartment, a seventh floor walk up flat which Diane soon calls, "Seventh Heaven." During that time, Chico obtains the job he wants and looks forward to bigger and better things. As for Diane, because of Chico's self-confidence that makes him a very "remarkable fellow," she no fears life. She soon proves her courage first by defeating Nana when confronted with her face to face, and after-wards by going through life alone after Chico enters the military with the outbreak of the Great War. In one of the film's most memorable scenes set during their long separation, Chico and Diane communicate with each other through their hearts and minds every night at the stroke of eleven as promised prior to his departure. Then on one particular evening, Chico is caught in a bombing explosion which sends the message immediately to Diane, now occupying her time as a munitions worker, sensing something has seriously gone wrong.
This sentimental love story, based on the play by Austin Strong, by 1927 standards, was so popular that it earned Janet Gaynor an Academy Award as Best Actress, the first to be honored for such an award. Simultaneously, she won for SUNRISE (1927) and STREET ANGEL (1928 while Frank Borzage was voted as Best Director. Twentieth Century-Fox remade SEVENTH HEAVEN in 1937 with an added plus to spoken dialog instead of the use of title cards, with the new Diane and Chico enacted by Simone Simon and James Stewart. Like Gaynor, Simon was short and fixed up to resemble her while Stewart, like Farrell, was the ever-so-tall "remarkable fellow." However, SEVENTH HEAVEN appears to work well as a silent than during the changing times of the 1930s, which by then seemed old-fashioned and outdated. With the sound version 22 minutes shorter than the original two hour silent, the elements between two central characters remains the same, right through the young couple climbing seven flights of stairs, an exhausted journey, as a trip to "seventh heaven," hence the title. Had SEVENTH HEAVEN been made some years earlier, it is my envision that it would have been directed by DW Griffith, starring Lillian Gish as the abused waif, with Richard Barthelmess playing Chico.
Also in the supporting cast are Ben Bard as Colonel Brissac; David Butler as Gobin; Albert Gran as Boul; Emile Chautard as Father Chevillion; and George E. Stone as The Sewer Rat. Gladys Brockwell as the abusive sister, stands out with her performance in her key scenes, especially with those vengeful eyes that would be an instant reminder to resembling that of Joan Crawford shortly before Crawford began looking like Crawford.
SEVENTH HEAVEN was one of the twelve selected films to appear during the summer months on public television's 1975 presentation of "The Silent Years" as hosted by Lillian Gish, with a piano score by William Perry from the Paul Killian collection, and off-screen female vocalist singing to the title tune of "Seventh Heaven." In the Critic's Choice Video Masterpiece Collection distributed in 1997, the SEVENTH HEAVEN copy remained the same as it played on TV back in 1975, with color tinting as an added treat. The Perry piano score was replaced with the original synchronized Fox Movietone score featuring the song and vocalization of "Diane" in its soundtrack.
In spite of how SEVENTH HEAVEN will play to movie goers today, the movie itself represents the kind of movies made popular during the silent era and should be treated as such. But it is Janet Gaynor, under the tender direction of Frank Borzage, whose expert know-how, succeed in making this sugary romance into something special.