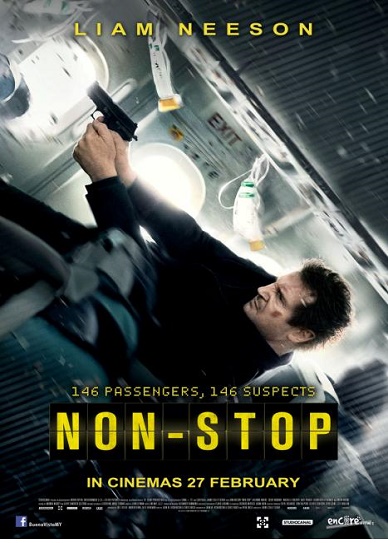 Non-Stop (2014)
Free Download and Watch Online 720p/1080p Bluray Full Movie HD
In Non-Stop 2014 two U.S. Air Marshals, Jack Hammond and alcoholic Bill Marks (Liam Neeson), separately board a British Aqualantic Airlines Boeing 767 from New York City to London. Marks sits next to Jen Summers (Julianne Moore), who has switched seats so she can be by the window. After takeoff, Marks receives a text message on his secure phone stating that someone will die every 20 minutes unless $150 million is transferred to a specified bank account. Marks breaks protocol and consults Hammond, who dismisses the threat.Marks, however has Summers and flight attendant Nancy (Michelle Dockery) monitor the security cameras while texting the mysterious person to try to identify him. When Hammond is seen using his phone and suddenly goes to the rear toilet, Marks confronts him.
Hammond unsuccessfully offers him some of the money and attacks, but Marks accidentally kills him exactly at the 20-minute mark. Marks finds cocaine in his briefcase. He alerts the TSA, but TSA agent Marenick informs him that the bank account is registered in his name and accuses Marks of being the perpetrator… Rotten Tomatoes consensus reads: "While Liam Neeson is undoubtedly an asset, Non-Stop wastes its cast" not to mention its solid premise and tense setup"on a poorly conceived story that hinges on a thoroughly unbelievable final act." Chris Nashawaty, writing for Entertainment Weekly, delivered a positive review, grading it "B", and observing: "At a certain point either you'll fasten your seat belt and go with Non-Stop's absurd, Looney Tunes logic or you won't. Against my better judgment, I went with it. After all, Neeson has shown time and again that he's the closest thing Hollywood has these days to a box office Rumpelstiltskin. He can spin cheese into gold." Richard Corliss, for Time, had a blase opinion, stating that the film "…is no more or less than what it intends to be.." and posits the question: "Why demand logic of an action movie released in February, when audiences just want a nice, bumpy ride?" Susan Wloszczyna of RogerEbert.com wrote, "Liam Neeson is not going to be knocked off his perch as the elder statesman of B-movie tough guys any time soon…", and continued, "The rather ingenious if preposterous premise, one that only goes way off course in the heavy-handed third act…'Non-Stop' is so ridiculously entertaining in spite of its occasional lapses in real-world logic." "Non-Stop" is a ridiculous actioneer from director Jaume Collet-Serra which has no credibility what so ever to my mind. The cliches and plotholes are a plenty and the storyline is poor and inconsistent, the acting poor and the dialogue poor. You can watch the full movie online or free download on Filmxy.
Action | Mystery | Thriller
User 1 Review:
neeson still commands perceptible authority as one of cinema's most convincing, intelligent action heroes. that's pleasing, because 'non-stop' is vitally entertaining but infuriatingly trifling in the character dimension department. even still, it's simplicity ascribes an intensively cinematic, old-fashioned actioner that captures the vigilance of terrorism.
User 2 Review:
Absolute garbage. This plot is complete nonsense. Its like an adult swim cartoon that took its way too serious. This plot zany, the dialogue is just cringy at times. Lazy and unnecessarily expositional. The plot was over stuffed so that didnt help. SurprisiSurprisingly the actors are the only saving grace, but no, The two main cast were awful. They had no chemistry, Liams character was too unlikable for a pg:13 action.
User 3 Review:
This is classic pop corn thriller because none of it is believable. You buy into it because Liam Neeson told you so. Julianne Moore? She is there just to collect the cheque and to add in a little star power. The entire cast is asked to act ambiguous, giving a sly smile, cast a disdain look so to keep us guessing who the real terrorist is. Well, that is cheating and make the movie looks cheeky.
Page Details:
This is Non-Stop (2014) Free Download Page. This page contains Non-Stop (2014) Free Movie Link, Non-Stop (2014) Full Movie Online, Non-Stop (2014) Watch Online HD, Non-Stop (2014) Full Movie Free Download in HD, Non-Stop (2014) Movie Download Google Drive. You can free download Non-Stop (2014) by direct link Or Watch Online for Free. Enjoy Non-Stop (2014) HD Movie Free Download.